During the HP event in Vienna I attended a presentation about HP's project Odyssey and that looked like a very interesting development to me, especially for the owners of Tru64 and the older OpenVMS systems.
In fact this is a blade concept, supporting Itanium and Intel Xeon processor based blade boards that will be seamlessly integrated in one box.
"And what does that bring me?" you might say as owner of one of these retired Alpha or VAX systems.
When you consider the combination with vtAlpha and vtVAX it can bring you a lot. Your current Alpha and VAX-based systems got a more and more isolated position due to the retired status of that hardware, but now they can be brought back in  a recent and company wide platform, without changing your software.
vtAlpha and vtVAX are thin layers on top of an x86 based host computer creating an Alpha or VAX environment wherein you can run the virtual equivalent of your hardware Alpha or VAX system.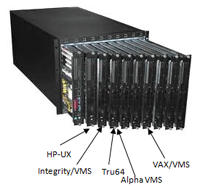 It are actually Alpha and VAX hypervisors (or Virtual Machine Managers, if you like) creating multiple Alpha and VAX systems on top of the x86 host. And that x86-host can now be part of the Odyssey infrastructure.
This means that with project Odyssey and vtAlpha/vtVAX you can reunite your older OpenVMS and Tru64 systems with your other, more current Itanium-based, HP-UX, Linux, Non-stop and Integrity/VMS systems on the same platform.
Odyssey, Hypervisors, Virtualization, no this is not an episode of Star Trek. It is a real opportunity to update your retired Alpha and VAX installation to a more modern platform and (re-)combine it with the rest of your IT-infrastructure, with little effort.
Time to beam-up your existing Alpha or VAX installation?
We like to hear your opinion about this subject, Contact us.