With version 2.4 vtAlpha gets stronger in two different ways:
– performance increase (appr. 30%)
– the full implementation of virtual FibreChannel support.
You can now connect virtual Alpha's with a FibreChannel SAN. The principle is simple: first we added support for FibreChannel (hardware) adapters to the vtAlpha host environment (vtAlpha v2.3), allowing you to connect the vtAlpha host to the FibreChannel SAN. As the next step we created the virtual FibreChannel adapter (KGPSA) that you can add to the virtual Alpha configurations you are using.
Image 1 shows the vtAlpha FibreChannel architecture and the capabilities it offers. You have vtAlpha changing your x86 system into an Alpha environment, where in this case you have two virtual Alpha's running, a virtual ES40 and a virtual AlphaServer 4000. Both virtual Alpha's have (virtual) KGPSA FibreChannel storage adapters included, like you would have in a hardware Alpha (visualized by the physical DS25 at the right hand side).
vtAlpha includes the drivers that handle the traffic with the FibreChannel adapters (FCA) in the vtAlpha host. Which on their turn are connected to a FibreChannel switch that interconnects all FibreChannel elements in your company storage architecture.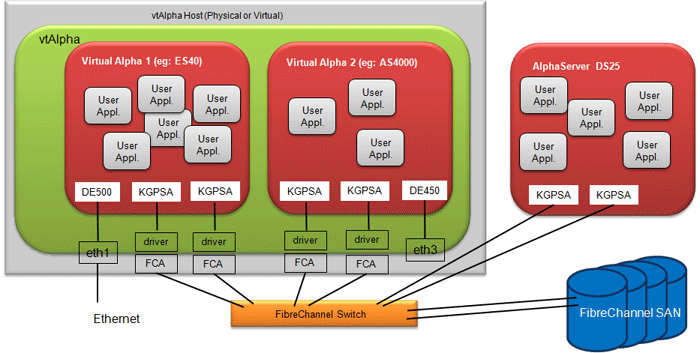 This setup leaves all options open for you, from only using the company SAN as a storage provider up to more complex Clusters based on FibreChannel. The latter you can (continue to) organize from your OpenVMS or Tru64 environment.
Image 1 could present a FibreChannel Cluster between two virtual and one physical Alpha (or Integrity, if you like). Or it could be three independent Alpha's, connected to the Company SAN. Or anything in between.
With the full virtual FibreChannel adapter implementation vtAlpha stands out from all other solutions in the market. vtAlpha does not require any special (and expensive) hardware for the host computer, or a special precautions at the software side.
This is more work for our developers, but it is easier and better for the customers. And a lot less expensive too.
Want to know more? Let us know and click here