Customers who are running multiple virtual Alphas on a single host like to share high speed Ethernet links by multiple virtual Alpha's. Especially when running on Blade systems that most often only have very few Ethernet connections. For these customers, and the ones with many Ethernet links, we have developed the Virtual Ethernet Switch.
The system manager can create one or more Virtual Ethernet Switches that can serve multiple purposes:
Allow multiple virtual Ethernet adapters to share a single host adapter
Assign multiple physical Ethernet adapters to a Virtual Switch for fail-over capability
Interconnect multiple virtual Alphas in one host without the need for a physical Ethernet link.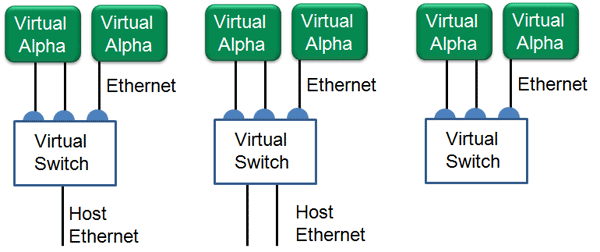 Depending on the line load and the capacity of the host links, many virtual Ethernet adapters can share a single host connection.
Creating Virtual Switches, adding/removing host adapters and managing these things can be simply done from the Toolbox/Network tab in vtMonitor.
Contact us when you want to learn more about this feature.