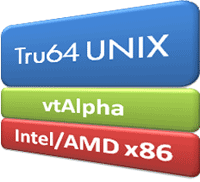 OpenVMS clustering was already included in vtAlpha from the early beginning and with version 2.6 TruCluster support (Tru64 clustering) is added.
vtAlpha TruCluster support allows moving all Tru64 installations to a modern X86 host platform and form a cluster.  Modern storage products (e.g. 3PAR) are supported, without your Tru64 based software knowing about it. Upgrade your storage to the latest level!
vtAlpha supports clustering via  FibreChannel, SCSI and logical disks. Implementation examples:
Replacing a hardware Alpha in a running multi-node FibreChannel based cluster.  Mixed Cluster of physical and virtual Alphas
Replacing a Alpha cluster by a virtual equivalent running on HP Proliants.
When you would like to learn more about this we invite you to let us know (contact request page) so we can follow up on your request.