OpenVMS Bootcamp 2013, in Bedford MA. An important gathering of openVMS experts from all over the world. Four days full of OpenVMS information exchange and knowledge sharing between the participants. Lecture rooms and hallways buzzing with VMS news and facts.
The OpenVMS operating system and community, 35 years of age and still extremely vivid.
In the evenings there is some time for letting your hair down, although always with a business undercurrent. The Roundhouse is  a very good example. A buffet dinner on one of the evenings where the dining table are combined with information tables where OpenVMS partners are present to discuss matters with the attendees.
This event is traditionally concluded with a raffle where people can win OpenVMS related prizes. AVT and Vere offered a free Alpha on a stick, which was won by David Bartz of Quest Diagnostics. Allowing him to run a virtual DS10 on any x86 computer or virtual machine he can lay his hands on.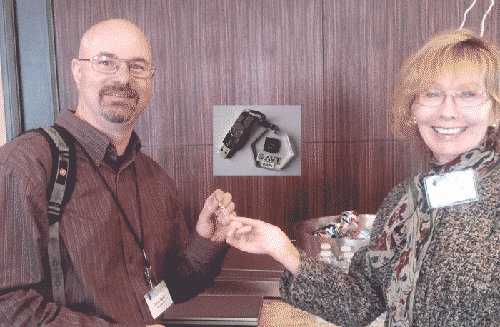 Congratulations David!!