iSCSI is a popular protocol to connect storage across the company LAN, creating a distributed storage infrastructure. vtAlpha and vtVAX already support SAN and NFS network based storage and has embedded iSCSI into its Bare Metal product.
No need to add extra software, everything you want is included in the product. You only have to identify the iSCSI targets that you want to connect to your virtual Alphas and VAXes making the network storage elements available to your virtual machines.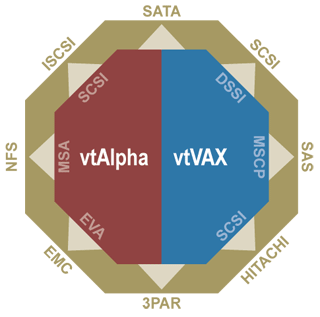 Your virtual Alpha and VAX do not need to be aware of all the modern types of storage. They still think they use MSCP, DSSI,  SCSI or MSA/EVA, while in fact their files are stored on local disks of any kind or somewhere in the company network using SAN, NFS or iSCSI.
Let us know when you want to learn more about this capability.