From the early beginning vtAlpha and vtVAX were installable directly on the X86 hardware (Bare Metal), which was a great benefit of this product set. Using the included hypervisor vtServer it was possible to run multiple virtual Alphas and VAXes in parallel on that X86 host.
Support for Virtual Machine installations was also available. VMware, Hyper-V, KVM and Xen are the most popular ones. Our virtual Alpha and VAX products run well on these virtual host infrastructures.
One of our prospects asked if we were VMware certified. Since we didn't even know such a thing existed we weren't. So we applied, went through the procedures VMware has in place for this and obtained this certification without a problem.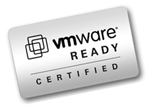 So from now on we can proudly say: vtAlpha, vtVAX and vtServer are all VMware certified. We made no changes to the products, we only got the certification.
Find more about this here: OpenVMS and Tru64 on X86