AlphaServer GS1280 Emulator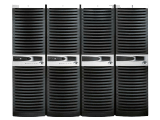 The AlphaServer GS1280 delivered high power data processing capabilities at the Enterprise level. It was a high-power server engine and could support 1 - 128 Alpha CPU's with lots of storage and network links.
Given it retired status and lack of hardware maintenance options, these systems need to be replaced by modern equipment to protect the software they are currently running.
vtAlpha allows you to move the Alpha software to a modern Intel/AMD based system (X86) by changing the hardware interface of that new host into something that looks like the original GS1280 system.
Be aware of the fact that vtAlpha-GS supports up to 32 virtual Alpha CPU's. If your AlphaServer GS1280 had more than 32 Alpha CPUs it is carved up in multiple logical machines with 32 CPUs max. using hard-partitioning. This effectively runs multiple Alpha machines in parallel using the GS1280 hardware box. In a virtual world, this hard-partitioning does make no sense anymore. You can run each of the independent AlphaServer entities with up to 32 CPU's each on their own hardware host or combines them on a single host with sufficient resources without the need for GS1280 hard-partitioning.
To run your Alpha software without changes, simply copy the contents of your Alpha disks to the virtual Alpha system.
For more information, please provide us with your contact details.
Thank you for this information, we will contact you as soon as possible.
The information you provide here will only be used to follow up this request and not for any other purposes.
A virtual AlphaServer GS1280:
1 - 32 Alpha CPU's
Up to 512 GB Alpha memory
256 PCI slots
Ethernet Adapters
- DE600, DE500
- DE450, DE435
- DEXGA, EI1000
Serial Line Adapters
KZPBA SCSI Adapters
KGPSA Fibre Channel Adapter
VTDSK Legacy Storage Adapter
Logical disks and tapes
Physical disks and tapes
Generic SCSI devices
Operating System support starts at:
OpenVMS 7.2-1h1
Tru64 4.0G