Run your Alpha and VAX applications in the Cloud
Cloud computing is a topic getting more and more attention and AVT has responded to this growing demand, just like we did years ago with the trend toward Virtual Machines. Our AVTware virtualization products were conceived and designed to run directly on x86-type computers without the need for general purpose Operating Systems like Windows or Linux. This architecture is known as Bare Metal.
Operating directly on x86 hardware greatly improves the reliability and availability of a virtualized Alpha or VAX because there is no interference from a multi-purpose Operating System (not to mention the cost for purchasing and patching Windows or Linux). Bare Metal provides the best virtual Alpha and VAX solution available. We also support major customers who have moved their datacenters to other popular Virtual Machine platforms (e.g. VMware, KVM, Hyper-V and others).
Recently the OpenVMS/Tru64 community has expressed interest in Cloud computing. A lot of discussion - pro and con - is going on about the possibility of OpenVMS in the Cloud. AVT doesn't participate in that debate, we continue to do what we are good at: providing a solution for an emerging demand. If a customer decides they want to run their OpenVMS or Tru64 applications in the Cloud, AVTware provides support for that.
How does it work?
There are many options to move your Windows or Linux systems to the Cloud (public, private, hybrid), but until now your OpenVMS/Tru64-based applications always required legacy hardware on-site.
With the new release of AVTware (v3.1) you can easily bring that Alpha/VAX software to the Cloud and get rid of the old hardware. Even better: AVTware connects your office with your OpenVMS/Tru64 applications (now in the Cloud) through a secure and private network. All communication between your local desks and your OpenVMS or Tru64 applications in the Cloud runs over an encrypted link preventing anyone to hack into your system.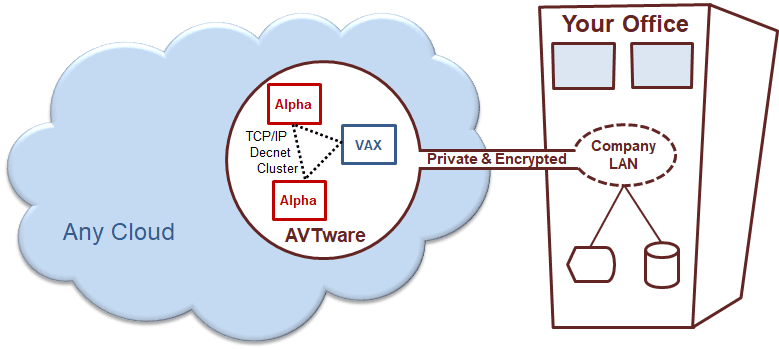 With the help of AVTware you can now run your Alpha and VAX software in the Cloud of your choice. Using the guidelines we provide elsewhere on this website, AVT will assist you and your cloud provider to calculate sufficient computing resources and storage capacity.
After installation you simply connect to the AVTware Cloud solution and setup a secure connection using your own certificates, thereby creating your own private and protected network that cannot be accessed by outsiders. An important benefit of this private network is that you can continue to use Alpha and VAX-specific network protocols like DECnet and Clustering. You can even connect equipment you may prefer to keep on-premise into this private network, or make backups to devices in your local office LAN, just to be safe.
To learn more about this Cloud implementation don't hesitate to contact us or your local AVTware provider. We will be happy to help you make the right decision for your organization.